What's creating a colossal stir in the Artworld right now? It's my drawings of course!
My new 'This is your life' range is bold, bright and bursting with detail.  Want me to cover a persons entire life so far, starting quite literally at the birth canal? No problem! Prefer me to showcase an exciting theme like 'marriage', 'career' or 'holidays'? Just say the word!
There's so much content I've had to upgrade them to A3 as standard.  Please note – they take about a decade to draw so planning ahead is key.
Art critics are agog for more – and they won't be disappointed because orders come in thick and fast. Here's one for a customer who has petrol running through his veins.  It's attached in glorious technicolour for you all to slobber over.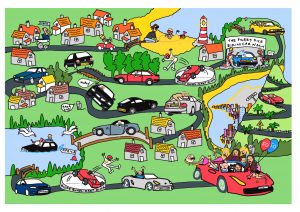 With the ink barely dry on the Motorhead's portrait, there was yet more thunderous applause for my next effort –  a romantic spectacular that covered Eddie's pursuit of Helen from the heady days of their courtship to the wedded bliss they now enjoy as parents to two strapping young men.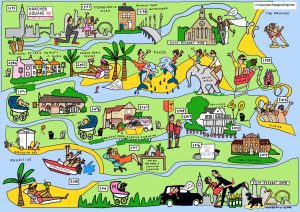 With hardly a minute spent in the UK since their wedding, holiday-addict Steve commissioned the racy piece below for his wife.  With billions of air miles under his belt he wanted to celebrate their many happy times abroad. The portrait is probably in a suitcase right now, whizzing towards another far flung destination.