What's creating a colossal stir in the Artworld right now? It's my new range of course!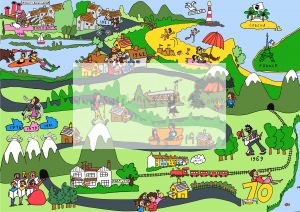 My new 'This is your life' range is bold, bright and bursting with detail.  The portraits cover a persons journey through life starting quite literally at the birth canal.  In fact, there's so much content I've had to upgrade them to A3 as standard.
Please note – they take about a decade to draw so planning ahead is key.
Art critics are agog for more – and they won't be disappointed! I've just completed another one for a customer who has petrol running through his veins.  It's attached below for you all to slobber over.