What's creating a colossal stir in the Artworld right now? It's my drawings of course!
My new 'This is your life' range is bold, bright and bursting with detail.  Want me to cover a persons entire life so far, starting quite literally at the birth canal? No problem! Prefer me to showcase an exciting theme like 'marriage', 'career' or 'holidays'? Just say the word!
Art critics are agog for more – and they won't be disappointed because orders come in thick and fast. Here's one for a customer who has petrol running through his veins.  It's attached in glorious technicolour for you all to slobber over.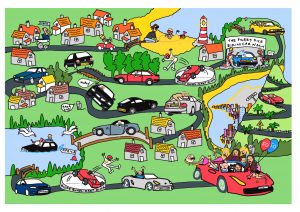 With the ink barely dry on the Motorhead's portrait, there was yet more thunderous applause for my next effort –  a romantic spectacular that covered Eddie's pursuit of Helen from the heady days of their courtship to the wedded bliss they now enjoy as parents to two strapping young men.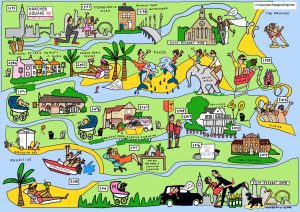 With hardly a minute spent in the UK since their wedding, holiday-addict Steve commissioned the racy piece below for his wife.  With billions of air miles under his belt he wanted to celebrate their many happy times abroad. The portrait is probably in a suitcase right now, whizzing towards another far flung destination.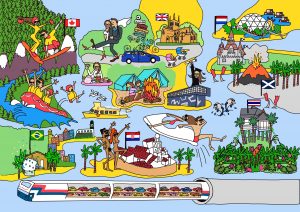 Hot off the plane from Kenya, another Steve (no less intrepid than the one above) was quick to commission a This is your Lifer to capture every millisecond of his adventurous ascent of Mount Kilimanjaro.  Barely had the frost thawed on his crampons when I got to work.  This artistic odyssey proved to be my most ambitious work to date and I'm now confined to a quiet place with my drawing hand swathed in bandages for the foreseeable.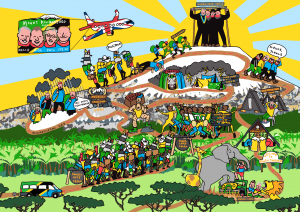 There's always so much content I've had to upgrade these masterpieces to A3 as standard.
PORTRAITS IN THIS CATEGORY (unframed) cost £549
Want to go the extra mile but don't want the bother of DIY? Just ask me to frame your portrait.
My premium frames in this category are approx 21 x 17 inches with an aperture of just under A3.
I opt for a stylish black finish as standard and my frames can stand alone or be wall mounted.
I now front all my frames with plastic instead of glass –  but don't panic at the P word, I promise it looks as sparklingly good as glass and is less liable to scratch.  It's also much lighter so far easier for you to hang on the wall and safer to have on free standing display.
You can choose to organise the framing yourself if you prefer.
FRAMING costs £49
SAMPLES If you're local you're welcome to come to the SG HQ and take a look at some I made earlier.