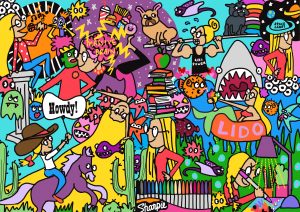 What d'you get for the child who already has it ALL (most of which is cluttering up their bedroom floor)?
A fantastic commission from my new 'Doodle' range of course!
These days each kid has more hobbies and interests than my entire class did back when I was in school.
So if you know a smallish person who excels on the sports field, plays a host of different instruments, reads voraciously, dabbles in the Arts, is a mathematics whizz, and is the running for a Nobel Peace Prize then get in touch! I can combine every singe activity and aspiration in one eye-popping, jaw-dropping piece of Fine Art.
Hang it on the wall and they'll be transfixed for years to come – or your money back!